Barrydale 5km Fun Run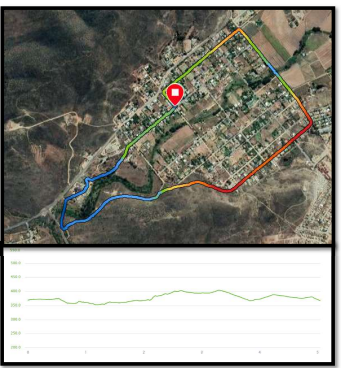 Overview
A circular loop connecting the new vibrant, old, and residential parts of town in a great jogging/time trial/dog walking outing for all.
Start: From outside the Karoo Art Hotel (30 Van Riebeeck St, Barrydale, 082 441 9143).
Run: Head South along Van Riebeek St towards the Joseph Barry Distillery. The Ou Kerk is on the corner of Sprigg St. Just past this turn left and follow the fence of Moreson into the old campsite grounds (500 m). Continue past old ablutions and other buildings towards the distillery. You will pop up onto the driveway to the distillery. Head between the two large white buildings ahead of you and down an old tar road crossing the Huisrivier towards the R324 Tradouw Pass. Stay this side of the fence and turn sharply left through some bushes up a single-track path. 
You will pop out on a dirt road (1,3 km) that heads back into town passing the old abattoir building on your left. Follow the road for a short while until you see the obvious, steep walking path goes diagonally up the hill on your right (2 km). Take this as it climbs and traverses around the hill. You will connect with the end of High-Level St (2,6 km)
Continue along High-Level St all the way traversing above the town and the Huisrivier valley. Follow the road all the way to the end and at the T-junction turn left downhill (3,4 km). This is the original boundary of Barrydale and becomes Collier St further along. Follow this path all the way as it turns into a road and up the other side. You will see the old mud and quince wall to your right that was the old border of the town. 
Turn left into Tennant St (4,2 km) which runs one block below the R62. Traverse all the way to just before it connects with the R 62 to turn left into Laing St and the finish one block further.