To Do list
Things to consider for an unforgettable 'Barrydale Raid'
All the events and interactions of this program of Barrydale possibilities  have been hand picked by us. Pre booking is essential. Let us know what you're interested in or if there are other possibilities you'd like us to look into . 
Karoo Art Hotel Barrydale To Do list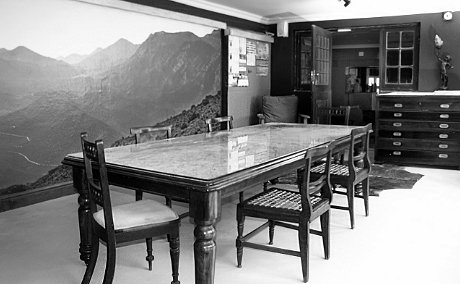 Start your visit in the Map Room
All the walks, runs, hikes, rides, drives . All the maps, downloads, reviews, GPS links. Above all, here you will find the views and reviews of visiting explorers like yourself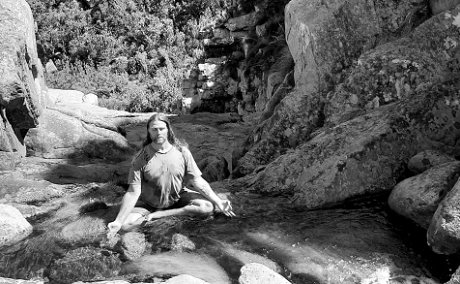 Mindful hike with Francois Beer
Top level athlete and rugby player turned yoga practitioner and nature lover, Francois Beer takes you on a guided Mindful Walk in Silence beneath the powerful and energising Langeberg Mountain ranges in Barrydale.
A Silent Hike gives you the opportunity to immerse yourself in nature, escape from your phone and step away from the clutter of life for the rare opportunity of a cleanup of that hard drive you call your brain. 
2-3 hours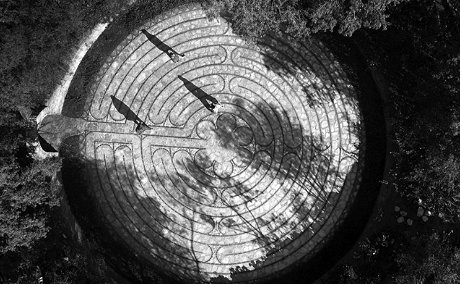 Labyrinth walk with Terry De Vries
Facilitator/sound healer and internationally recognised labyrinth guru Terry De Vries's retreat centre lies just across the vineyards from the Karoo Art Hotel. Labyrinth walks are about the letting go of stress, the awakening of your inner creativity and connecting with nature. Terry's labyrinth is a beautiful replica of the one under the Chartres Cathedral in France. It is here that she'll lead you through a moving intervention that combines a walk plus meditative breath work, quiet mind work plus sound healing. Two hours.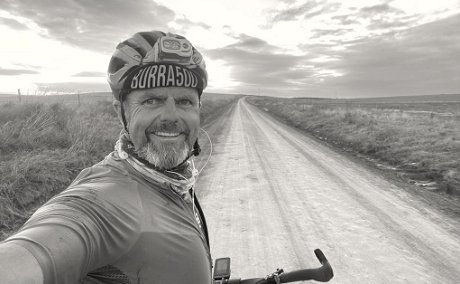 Plan a bespoke No Ordinary Weekend N.O.W with Alan Hardaker
Alan is Barrydale's resident extreme athlete and the person behind NOW, the No Ordinary Weekend concept. To your brief, and taking your party's capabilities into account, he creates bespoke experiences with MTB, gravel bikes, trail running, hiking and road running. Alan and his team cater for both individuals and corporates. A survivor of some extreme health challenges prior to the conquering of 3 of the world's highest summits and regularly competing in the world's toughest endurance mountain bike events in spite of sugar diabetes, Alan is inspirational on food, nutrition and exercise (and the power of the mind to blast you through when the chips are down !)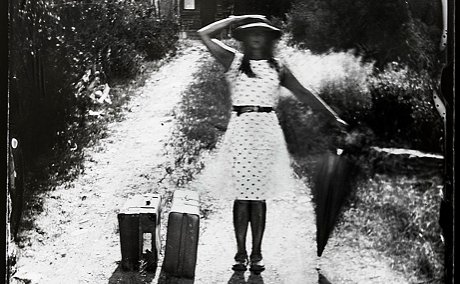 Doris Day's history walk
Barrydale has a great history and it's an intimate village. On Doris's walk you'll discover the history but you typically also bump into a bunch of the locals. It takes around 2 hours for the tour. The chats over the garden fence and in the likes of the Hub, Die Langhuis or the bookstore take longer.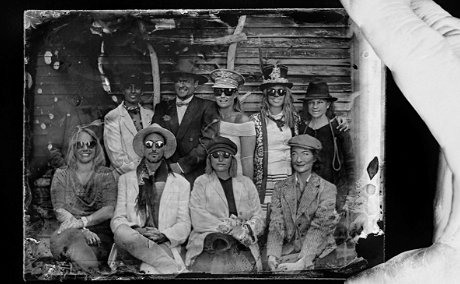 Analogue photography and the wet plate process with Graham Abbott
If you're looking for a distinctive art photography study of you and your team on tour this is a shoot for you. Of if you're looking to delve into the process behind the unique look of wet plate he'll get you on the road with an inspired half day workshop. Graham is the driver of Barrydale's exciting Analogue Festival and you'll be working with him in his crazy, beautiful shed/barn/studio at his appropriately named property – The Far Side. www.bapf.co.za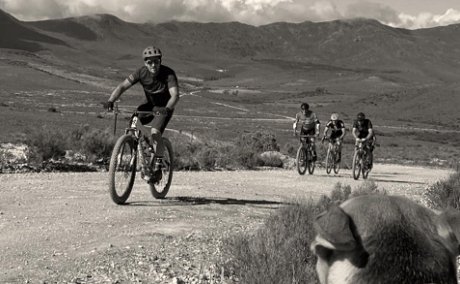 Cycling out of the Karoo Art; The
For ultra-serious cyclists – Barrydale resident  and ultra-distance athlete  Alan Hardaker has a close relationship with the Map Room and treats any invitation for something hardcore  with relish. You'll be slotting into his Munga or Freedom Challenge or Silk Road cycling event prep. More 'normal' cyclists are welcome to join the daily town ride (6am summer / 7am winter) or follow a Map Room Relive / Strava download. Barrydale is gravel bike country. For mountain bikers a new 60km loop through a number of farms will soon be opened and for road bikers the 40 Km Tradow Pass route is a real scenic highlight.  Rick is your man to help coordinate / lead a ride. For a casual cruise around the village we have our collection of Dutch bikes – including a tandem.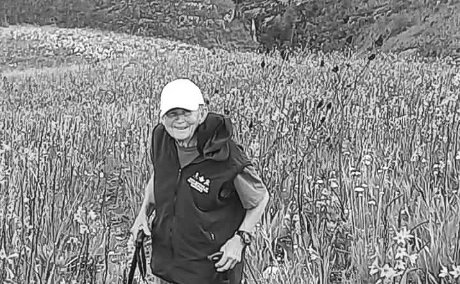 'Fynbos walk with a botanist with an optional Fynbos laced gin tour to end.
Enjoy a mountain walk with local botanist Flora Cameron  and if you have the time and the inclination  end with a master of the craft of what to do with all those Botanicals – master Gin distiller Kenny Scheepers of Metanoia. Kenny's fabulous distillery just outside Barrydale is one of the hidden secrets of Route 62. www.metanoiadistillary.co.za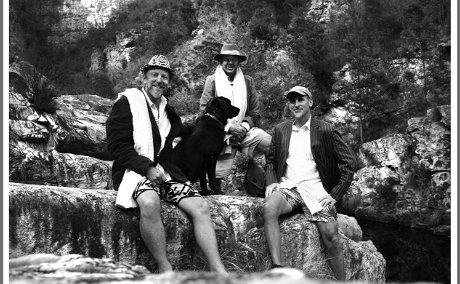 'Birrydale 365' the early morning swim club
The swim club departs at dawn from the hotel in one of our trusty Land Rover Defenders. The destination - a rock pool on the Tradouw pass. Along for the trip is a Melvill & Moon Game Drive Ammo Box (9 mini Stanleys) with fresh ground coffee plus a stash of freshly baked New York Bagels. Followers of the Wim Hoff cold water swimming movement will relate to all of this. The trip ends at the AGA back in the Breakfast Room for hot coffee and a full farm breakfast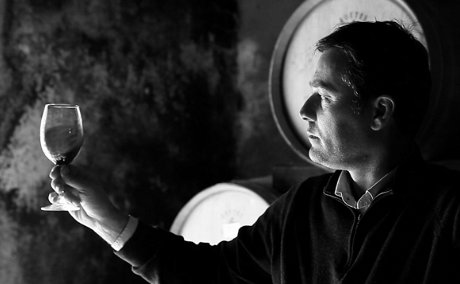 The Barrydale many stop tasting tour
Bullet points of a tasting tour of note
1st stop is the Joseph Barry Brandy Distillery for a tasting of their world's best brandy award winning Joseph Barry 10-year-old.
Then it's on to Beate and Meyer Joubert's Joubert Tradauw Private Cellar and Alfresco Deli.
Then on to Kenny Scheepers and the Metanoia Gin distillery (with a brandy and whiskey in the making).
Next stop Karoo Saloon – Route 62's iconic Rock Roadhouse .
After that we freewheel back down Route 62 to Barrydale's Makers Brew craft brewery.
Then it's "home James" (sorry, that'll be "Wilko" - you definitely want a designated driver for this one) for  the final full stop on the tour the Karoo Art bar.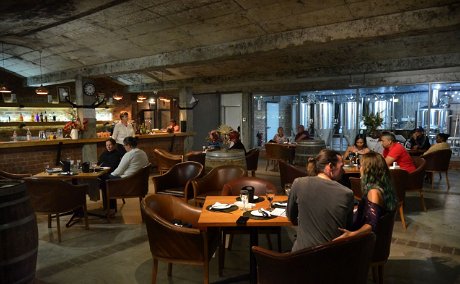 Visit the Joseph Barry distillery tasting room
Our area is famous for its Brandy. Named after Joseph Barry the pioneer that Barrydale got it's name from, the Joseph Barry distillery is one of South Africa's leading craft distilleries and has been producing hand crafted Cape Brandy since 1941. Joseph Barry's state of the art tasting room is where you'll enjoy a brandy tasting experience that includes Joseph Barry XO which is a past worlds best Brandy in its category awardee. Also there you'll be tasting award winning Brandy's from Joseph Barry's sister company Oude Molen.
The distilliary is in easy walking distance (+_ 2 Km) from the hotel and combines well with a visit to Gert Vd Merwe's elegant Lang Huise country store and Moreson Antique store
Open up till 5pm in the week plus up till 4pm on Sat and 3pm on Sunday.
Cost R60.00 for a tasting of 6 Brandies
R95.00 for a brandy and chocolate pairing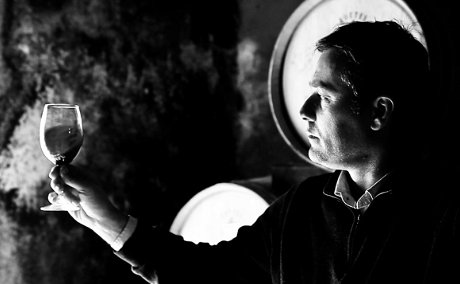 Visit the Joubert Tradouw cellar for a wine tasting and long lunch
10 Kms down the road towards Montague lies the high end Joubert Tradauw wine estate with it's award winning Chardonnay, Pinot Noir, Syrah and Cabernet Franc wines. As well as their R62 brand. Wine maker Meyer Joubert's wife Beate is a sublime cook and is a published cookbook author. Out of their farm deli restaurant she specialises in platters that are paired with their estate wines.
The deli /restaurant is currently open for lunch on Fridays and Saturdays and open for lunch (depending on numbers) by appointment on other days of the week.
www.joubert-tradauw.com
Beate 0823049000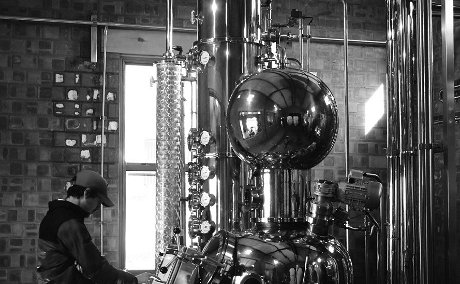 Visit Kenny Scheepers Metanoia distillery
The fact that ex international oil trader Kenny Scheepers's high end Metanoia distillery doesn't even have a sign on the road ads to the surprise of what you will find at the end of an inconspicuous dirt road that will have taken you through one or two other farmers properties with a growing sense of 'surely this can't be it'
A major focus of the Metanoia distillery is on using the wealth of local fauna, including aromatic and medicinal botanicals such as Buchu, Artemisia Afra (Wilde Als), confetti bush and countless others. All of them ideally suited for making high-quality botanical spirits, including gin, absinth and aquavit.
Metanoia is not open to walk in visitors but is well worth consideration by Gin, Brandy and Whiskey connoisseurs of can be visited by arrangement via Kenny himself.
Depending on Kenny's availability It ties in well with a visit to Joubert Tradauw as they are close neighbours
Kenny Scheepers 0716414869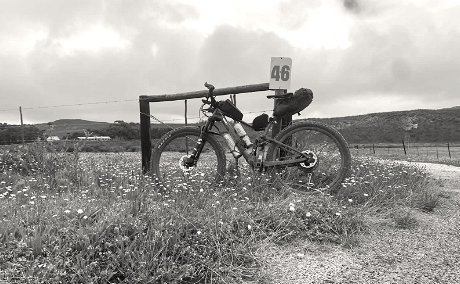 The Barrydale Bucket list with Alan Hardaker
Calling all triathletes and the super fit.
Day 1; Land Rover drop off with day pack in the deep dark and distant bos –'Grootvadersbosch'- for an epic hike over the mountain back to Barrydale. 20.8 km, 6-7hours,1229 climb. Barrydale to Grootvadersbosch on Relive! https://www.relive.cc/view/v36AgB8BRGv
Day 2. The 110 km 'bar to bar'  Gysmanshoek  Pass mountain bike  loop following an oxwagon route dating to the mid 1700's .
Day 3. The 15km Tradow Pass gorge hike/swim/scramble from Oak Tree pool to Suurbraak.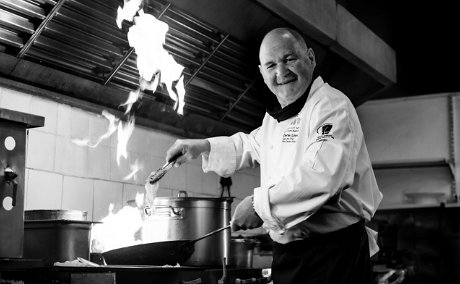 Slow cooking with Derek for a fast life
Join Derek in a recipe sharing session plus  prep of one of the hotels slow cooked menu items: Oxtail, Ostrich neck, venison, lamb curry and other stews (that's the fast part pictured - the braising !). The one you do is yours to take home on your departure. Not for free, you'll be paying for ingredients and a bit for the tuition.   While not every home as an Aga, slow cookers are easy to come by; load the ingredients, put them on super slow as you head off for a frenetic day at the office, return to a perfectly prepared super slow cooked meal. Just like the ones on the menu of The Karoo Art Hotel in Barrydale.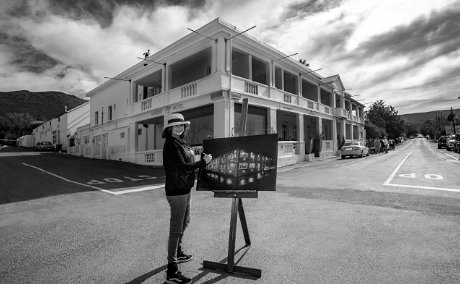 A day / 1/2 day in the field with a local artist
Whether in charcoal or ink or oil or watercolor this is a place for landscapes and plants; The drama of folded mountains, the staggering beauty of the Tradow pass, the harshness of the Karoo juxtaposed by the fabulous productivity of any place where there is water. We'll present you with options on accomplished  local artists (Sue pictured) who'll either teach or, if you desire ,simply guide you to the finest locations in the field – along with a 'bladsak' (that's the name of the Melvill & Moon made Karoo farmers lunch bag) packed with a ploughman's lunch.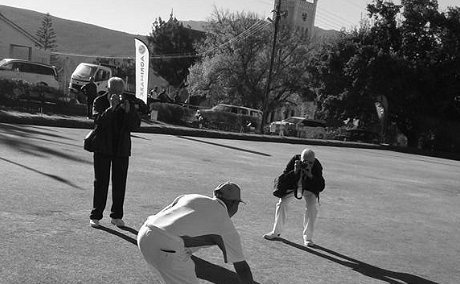 Not at all boring Bowls and Jukskei
Bowls is absolutely brilliant for the likes of the inter family bonding of strangers the day before the wedding. Jukskei is better for smaller group.  Tennis is tennis.  It doesn't take much to turn the seemingly unfashionable games of Bowls and Jukskei into an all out party (trust us on this). All three sports are played within walking distance of the hotel. Speak to us about setting things up. Speak to Wilko in the bar about the arming and transport of cool boxes, and the mobile DJ rig and the fines table and the manufacture of team kit, etc, etc.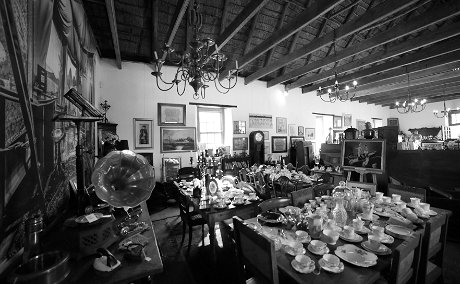 Take a walk to the Moreson antique store
Once a church (Barrydale's original NG Kerk) , Moreson is a brilliantly curated Antique store in a very historic building. The quality of curatorship aside, there's another underpinning feature of Moreson– outstanding value. Owners Brendan and Stephanie have an ongoing project with the restoration of the historic Moreson property at large. The antique store is well worth visit and it is an easy walk from the hotel.
Opening hours 10:30 – 3:00pm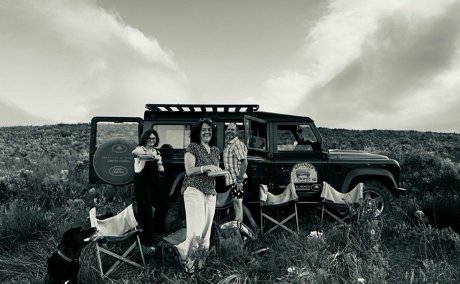 Book a Melvill & Moon Grand Picnic on a mountain top
There's a lot of South Africa's most romantic retro Safari brand in and around the Karoo Art Hotel. Rick and Sue founded Melvill & Moon in 1998. The Roorkhee chairs on the balcony and on many of the room veranda's, the luggage racks in the rooms and the Transvaal chairs in the dining room, plus the Victorian campaign wash basins converted into champagne caddies are all from Melvill & Moon. As is the full blown Grand Picnic set up featuring Melvill & Moon campaign furniture that will emerge from a Melvill Moon limited edition Land Drover Defender for an ultra-romantic sundown session or picnic lunch on the top of a Klein Karoo mountain top.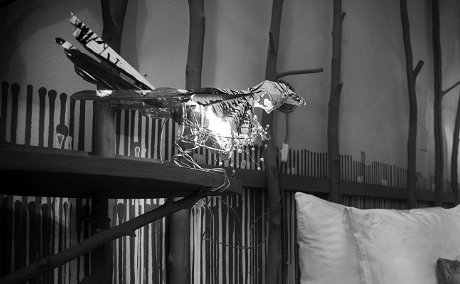 Visit the Magpie Art Collective
Right across the road from the hotel lies Magpie – a high end art collective who are creators of collectable chandeliers and light fittings made from found objects (Michelle Obama chose  one for her children's bedroom at the White House years ago).
Official trading hours 9-5  - but to  avoid disappointment make an appointment via hotel reception.
https://www.instagram.com/magpieartcollective/?hl=en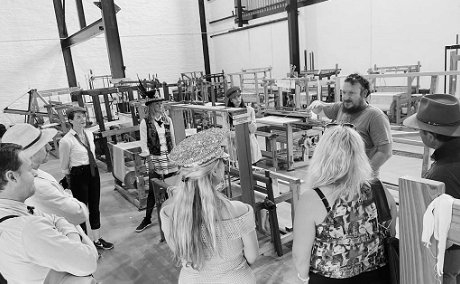 Visit Barrydale Hand Weavers

Preserving the ancient craft of hand weaving are inspirational Barrydale Hand Weavers. A visit there will take you into their loom room and there you'll find a dedicated team of crafts people under the leadership of Kate and Arran Bastable using a weaving process that predates the industrial revolution in the manufacture of a high end range that sells In many of South Africa's leading boutiques as well as internationally.
https://barrydaleweavers.co.za/our-story/
There is a retail shop on site.
This visit dovetails well with a brandy tasting. Barrydale Hand Weavers are on the Joseph Barry distillery property.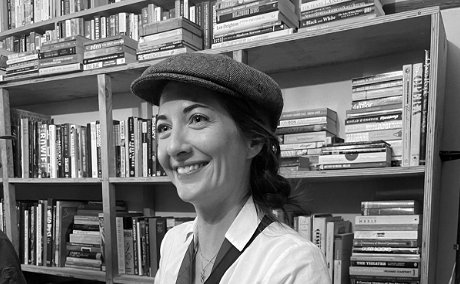 Visit the house of 35,000 books
The house of books is a short stroll up the road from the hotel. There's a beautifully shot documentary on Anton the bookstore owner and his love of a dog. This is almost required viewing prior to a meeting with the this extraordinary book curator in his fantastic house of 35,000 books. Be prepared to pay anything from R25.00 to R5000,00.
Opening hours; Something of a moving target but bank on 10-4.00 Mon – Sat.
Next to The House of Books is Hearts on Main, owned by Liske, specialising in locally made artisan craft.
Opening hours; A more predictable Mon – Sat 10-4.00
Across the road is retired professional gambler and gifted artist Anthony Chidrawi's art shop and old style internet café.
Doing the coffee and the food at the Hub is classical guitarist and ex radio man Reuben Hart ('Reuben the Screwman', Radio 702).
Opening hours 8.30-3.00 weekdays. 8.30-12 Sat. Closed Sun.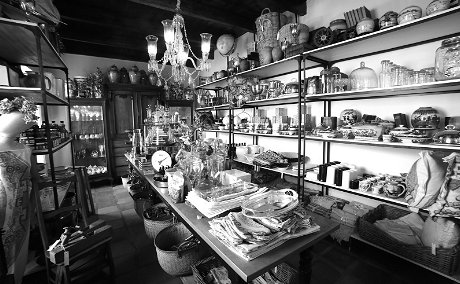 Take a stroll to Gert Van Der Merwe's Lang Huis
The Langhuis country store is owned by celebrated South African couturier and wedding dress designer Gert Van der Merwe. There you'll find a beautifully curated collection of gifts along with some great off the peg fashion by Gert. His partner Jaco is an outstanding hair stylist with a big Gauteng following but now Barrydale based.
The Langhuis doors are wide open for walk in visitors but bookings with Jaco are essential. Talk to reception.
The Langhuis is a great stop over on the way to Moreson.
Further along at the top of our street is Moreson an outstanding antique store curated by the owners of the historic Moreson property Brendan and Steph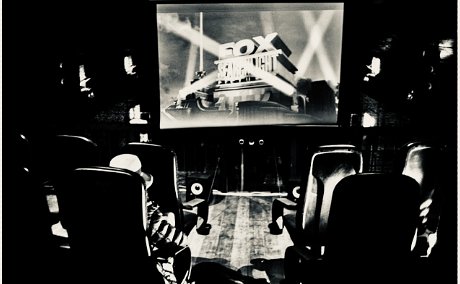 Attend a classic movie screening in our Bioscope up in the beams above the Ballroom
The discovery of the Bialanti Bioscope up the old wooden staircase at the far end of the ballroom is one of the delightful surprises of an exploration of the nooks and crannies of the Karoo Art Hotel. Charl Barry the curator of the Bioscope program is a music and movie buff of incredible knowledge and experience. As an aside he is also credited for being removed from a flight by the management of the Rolling Stones for being a bad influence on the band (it's a long story, ask him about it). Under Charl Barry's baton the hotel's movie club runs on a Friday night but the Bioscope can be lit up on request for groups.
Admission free. Welcome to bring a drink from the bar.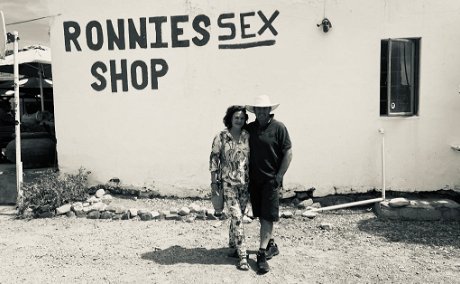 Take drive out to Warm Waterberg and Ronnies Sex shop
20 kms out on the Ladysmith rd is the famous Ronnies Sex Shop as well as the turn off to Warm Waterberg mineral spa. Typically you'll find Ronnie himself in attendance at his famous 'shop'. How the Sex word got onto the wall of a previously non event of a roadside store is a fun thing to hear direct from Ronnie. But there is a connection to the Karoo Art here. He was sitting in the bar minding his own business when some friends shot up the road with a plan ! If you either have a costume or you've got away from Ronnies with your underwear still on a visit to Warm Waterberg is a memorable experience. As a place it's not everyone's cup of tea design wise, lost as it is in a 70's time warp. But the way it is is exactly what it's owners and band of dedicated followers want and the effect of it's Lithium enriched waters is wonderful. Suggestion ; pop into Ronnies for a drink or two for a confidence builder then shoot across to Warm Waterberg for an immersion there.