John Dobson: The Art of Springbok Rugby and cooking
Posted on Tue June 7, 2022.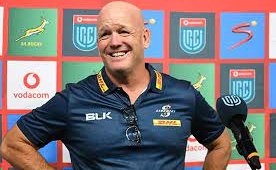 The new concept of appointing luminaries to be the conductors of the hotel for a period kicks off with the Stormers rugby coach and assistants who take the baton on the weekend of 1/2 July for the Springbok rugby test vs Wales.
Friday night kicks off with the Art of Steak Masterclass in the Karoo Art dining room with  Chef Greg Bax ('Baxi') of the award winning Rare Grill, Clairmont. 
Saturday, Springbok Test vs Wales day, begins with Springbok preparation of a different kind; The Springbok Potjie workshop with Karoo Art's Executive Chef Derek Lowe and the owner of Leopard Rock Wayne Oostingh (PH)
With the Springbok Potjies assigned to a long slow cook on the hotel dining room's vintage Age it's midday at leisure in a village more than well set for a few pre game pub visits; Karoo Daisy, Country Pumpkin, Makers Brew, Dung Beetle, Diesel & Creme, the Barrydale Brandy Cellar, Joubert Tradauw down the road. But be back by 2PM for John Dobson and associates on The Art of the Game pre test session. Bialant Ballroom. 
John Dobson and co will be behind the Karoo Art Commentary Box before, during and after the game
With the game and possibly Wales themselves done and dusted we'll be convening back at the Aga in the elegant Karro Art dining room - conveniently situated between the Ball Room and a bar- named after a legendary Barrydale Edwardian era 'team player' - Anna Jordaan. 
2 nights , 2 food workshops, 2 Art of a Karoo Farm breakfast's, the expert instruction of two award winning chefs and the hosting of Stormers coach John Dobson and associates and the luxury of the new Karoo Art Hotel; 
Groot Karoo  2 Day package; R3259,00 pp sharing. R3899,00 single
 KLEIN KAROO   2 Day  package; R2750,00 pp sharing. R3499,00 single
Garden Suites 2 Day package;R3459,00 pp sharing. R4099,00 single 
Lunches and alcohol excl
IMPORTANT NOTE RE BOOKINGS
Do not attempt to book through the hotel booking engine (if you go there it will appear booked out as we have blocked the weekend out) rather use this button to contact Ruwaida in reservations direct via the reservations email link.