Die Kuns van die stories vertel
Posted on Wed June 15, 2022.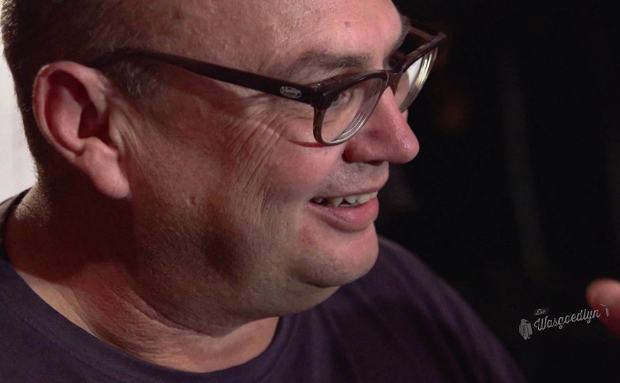 Die Karoo Art Hotel verwelkom van 10 tot 13 Augustus vir Dana Snyman, Riku Lätti en Rian Malan. Hierdie is 'n Klein Karoo wegbreek soos min.
Ons bied aan: Die Kuns van Stories vertel is 'n waartydens hierdie drie legendes van hul beste stories, liedjies en films hier in die gemak van ons hotel in Barrydale gaan deel. Dit is die eerste aanbieding van sy soort en natuurlik sluit ons dit af met 'n groot opskop in die Belanti Saal.
*Kaartjies na hierdie vertoning sal ook aan diegene wat nie aan die hele naweek se program deelneem nie, beskikbaar wees.
Let wel: Hierdie is nie 'n kursus vir aspirante boekskrywers wat 'n kortpad na uitgewers soek nie. Nee, hierdie is 'n geleentheid om drie legendes beter te leer ken en dalk van hul insig in jou skryfwerk toe te pas.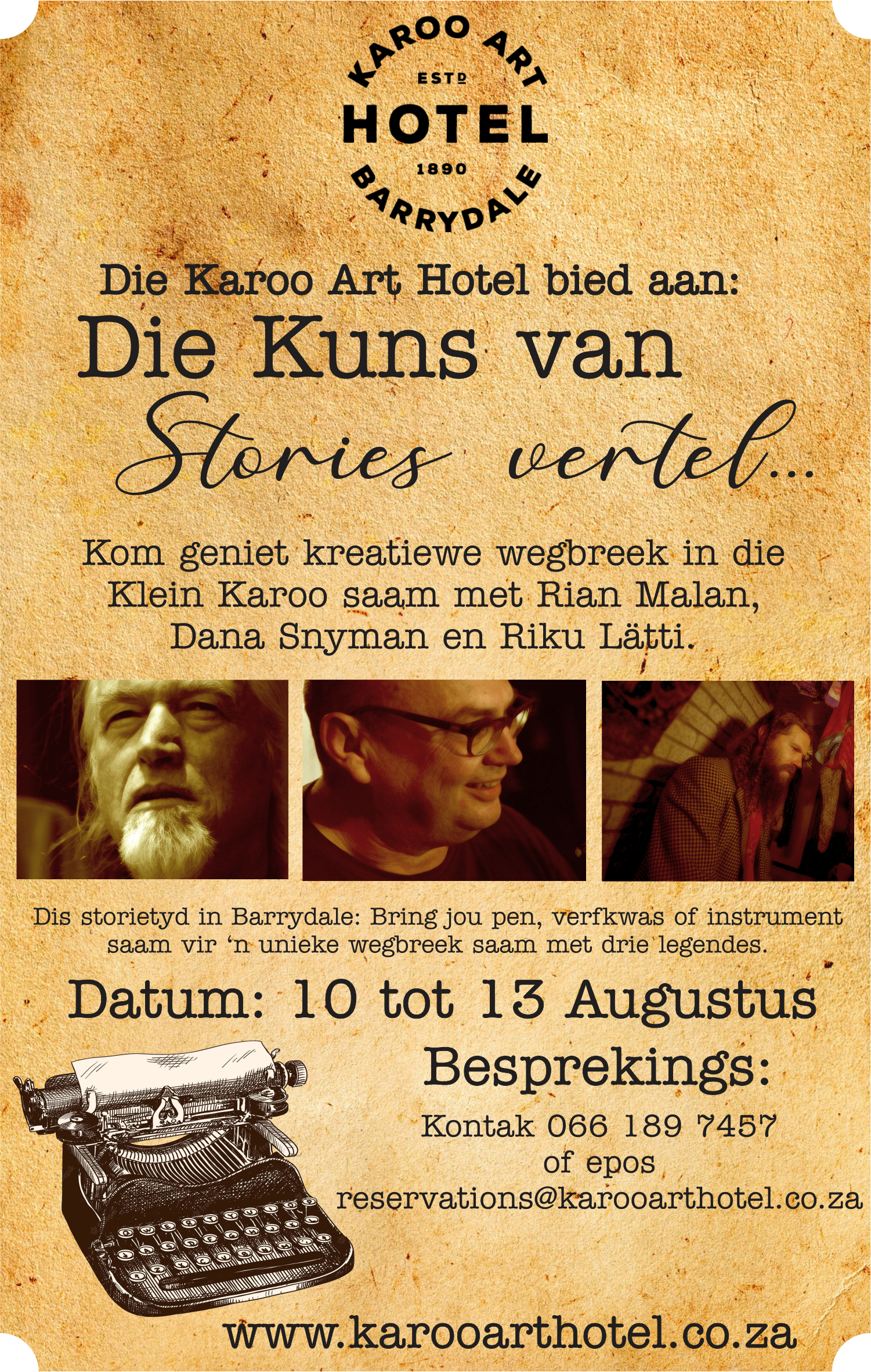 Klein Karoo Samesyn
Stories vertel om die kampvuur is tog 'n groot deel van ons kultuur en wie dan beter as hierdie driemanskap om oor drie dae van hul geheime met ons te deel.
Ons gaan saam luister, lees, skryf, kuier musiekmaak en natuurlik aan die geregte van ons bekroonde sjef Derek Lowe smul.
Ja dit alles en nog meer in 'n kreatiewe omgewing waar tyd stilstaan en die kerkklok jou slaaptyd bepaal.
Terwyl daar deurlopend skryfaktiwiteite asook verkenningstogte in en om die dorp gaan geskied, is een van die naweek se hoogtepunte beslis die uitsending en bespreking van Riku se film 'Die Ongetemde Stem'.
Die skade:
Fasiliteerder fooi. Drie nagte verlbyf (4 stêr hotel) met ontbyt en aandete (in die geselskap van drie legendes),  plus toegang na die opskop wat Vrydag die 12 de Augustus plaasvind.
(UItgesluit: Middagetes, drankies en ekstras)
Klein Karoo enkel kamer R6586,00
Klein Karoo dubbel kamer  R5,533,00 pp
Groot Karoo  enkel kamer R7,234,00 
Groot Karoo dubbel kamer R6,206,60 pp
Garden suite enkel R7,558,00 
Garden suite dubbel R6523,00 pp
IMPORTANT NOTE RE BOOKINGS. DO NOT ATTEMPT TO BOOK THROUGH THE HOTEL'S CONVENTIONAL BOOKING ENGINE, RATHER CONTACT RESERVATIONS DIRECT VIA THIS LINK
Fill in your contact details and mention die 'Kuns van Stories Vertel' in the comment block and the category of room you'd like to book into.