Announcing the Art of the Bluff Sat 11 June
Posted on Thu April 14, 2022.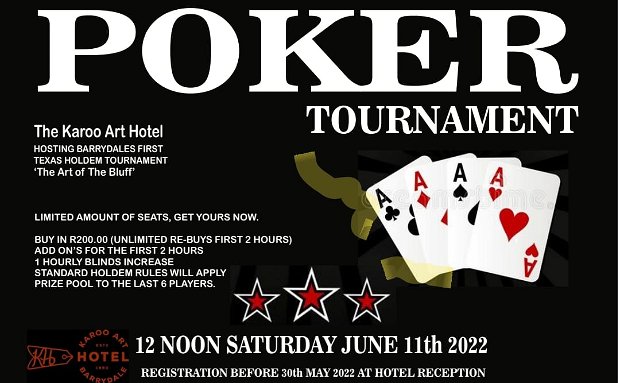 Starting at midday and ending at midnight on the 11th of June will be the Karoo Arts first professionally staged poker tournament. There are 60 seats at the table.
While it'll be high noon in the Karoo Art dining room transformed into a poker saloon , players who have really played their cards right and invited their partners will be able to concentrate on the game with the knowledge that the hotels partner program (must do's in Barrydale)  will make this one of those weekends where it was a win win for players and plus one's alike.....
IMPORTANT NOTE RE BOOKINGS
As all rooms in the hotel have been reserved for the Art of the Bluff kindly don't use our booking engine (it'll reflect that we are full and won't let you in) and rather use the link to our reservations desk in the accomodation deal below.